This Deal is no more Active
Please click here 

to view current deals
One-way international flights from India to Russia in just about 4K!
This is a limited period offer so if you're a traveler who's always on the edge, you've got to hurry! You can now fly to Moscow from Goa at a dirt cheap rate of INR 4,073 / 3,787 p. RUB.  The offers are valid for one-way air tickets and are only applicable for specific dates (more reasons to hurry).
Russia is the world's largest nation and attracts tourists from across the globe. With its magnificent subtropical beaches, forests and rivers make it one of the top tourist destinations. The largest country does not only have a rich landscape but is also famous for its cultural heritage. Russia's top tourist's attractions include a boat trip from Moscow to St. Petersburg, Kizhi Island, Valaam Island, Black Sea coast etc.
The capital city of Moscow has a strong historical significance with famous cathedrals like St. Basil's that sing of the archeological beauty of the country. If you're a lover of good vibes and archeological gems, Russia is the place to be!
Top dates to hunt the cheapest deals –
The steal deal onGoa-Moscow flights is extremely generous, but like all good things, this lasts a limited time. We have scored you the best dates that have the best deals available on one-way ticket fair to Russia: 17th and 18th November.
Reminder: Hurry before the offer lasts!
Routing:
Goa (India) To Moscow (Russia)
How to book? Use this link –
Here's what your booking will look like –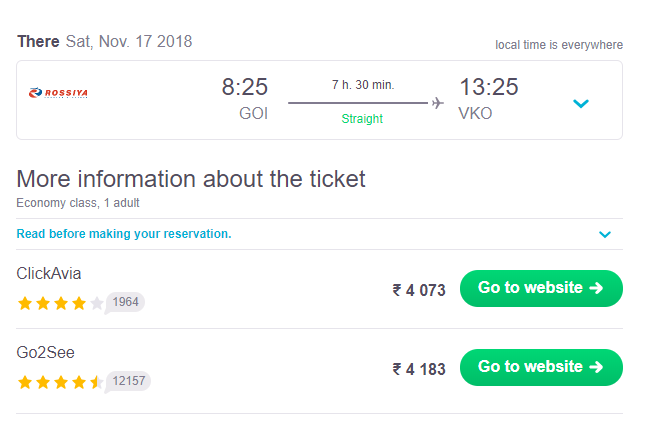 Disclaimer :
The amounts and dates mentioned in this article are subject to change. The prices are constantly fluctuating due to the various deals proposed by the website. This article is meant to highlight the current top deals available. Therefore, the exact amount/ deal can only be inquired from the website as it may be different on the time of booking.
Looking for cheap 4* and 5* hotels in Russia?